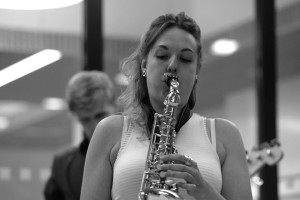 Rachael Cohen, a London-based alto saxophonist and composer, is one of the brightest emerging stars of her generation.  Her skills as a composer and improviser have gained her a great deal of attention in the UK and beyond. The Guardian notes:
"Cohen takes a softly devious approach reminiscent of Lee Konitz – but, as with the canny Cool School veteran, the quietness is deceptive and the subtlety is in the weighting of phrases and the hipness with which she plays off the rhythm section."
Originally hailing from the Shetland Islands, Rachael began her musical education on the piano at age 4. She picked up the saxophone five years later, and kindled an early passion for improvisation. When she was 12, Miss Cohen's family moved south from the Shetland Islands to Edinburgh, and she enrolled in the acclaimed City of Edinburgh Music School. There she studied with some of the UK's most admired musicians, including saxophonist Martin Kershaw and pianist Lynda Cochrane.
As lead Alto for a number of years in both the National Youth Jazz Orchestra of Scotland and Tommy Smith's Youth Jazz Orchestra, she cut her teeth early playing alongside great British and International artists and regularly frequenting venues top Jazz venues across the UK.
In 2006, Rachael won a scholarship to enroll in Jazz Studies at The Birmingham Conservatoire to study with Julian Siegel, Jean Toussaint, Mike Williams, Hans Koller, and the late Tony Levin. Additionally, she sought out opportunities to study with artists Dave Holland, George Garzone, Lee Konitz, Mike Gibbs, Donny McCaslin,Ingrid Laubrock, Larry Grenadiar and Jon Irabagon during their local engagements. 
2012 saw Rachael record her critically-acclaimed debut album 'Halftime' on Michael Janisch's Whirlwind Recordings, which catapulted Cohen's reputation to one of the premier new voices of her generation in the UK's jazz and improvised music scene. Featuring top UK guitarist Phil Robson, 'Halftime' was highly praised nationwide and overseas upon it's release in 2013 with four star reviews from major publications and earning her a spot in MOJO magazines top ten Jazz albums of 2014. MOJO magazine states
" an alluring, rarefied chamber jazz atmosphere where Cohen dances over her own unpredictable chord structures with articulacy and wit, elegantly blending Desmond's cool, Konitz's quirk and Coleman's lyrical astringency."
Rachael has since toured and continues to work extensively across the UK with her own projects and has come to be a mainstay at London clubs such as Ronnie Scott's and the Vortex as well as having her residencies at other clubs throughout London.
To book Rachael's quartet for a concert or workshop, or to book Rachael individually for a workshop, masterclass or private lesson, visit the contact page.